April's Sneak Peek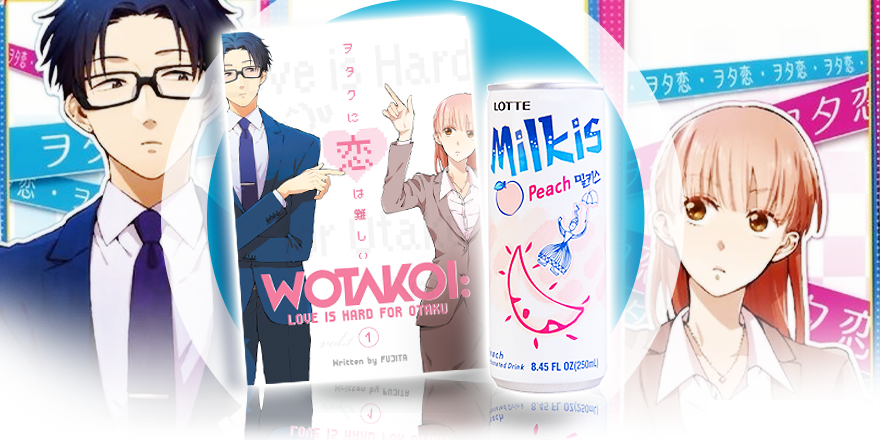 Spring has sprung, and this is the perfect month for new beginnings and blossoming love. But "why is love so hard for otaku"?!
April's theme, ME & YOU, gives us the bitter rivalries, hilarious banter, and terribly awkward situations between the most likely (and unlikely) of couples. Our featured sneak peek manga, Wotakoi: Love is Hard for Otaku, pairs a professional man with a woman who both have something to hide: they're geeks. Hirotaka Nifuji is secretly a hard core gamer and Narumi Momose a secret fujoshi. Can these two date without their hobbies getting in the way, or revealing each other's secrets to their coworkers? (read more of the summary below!)
Join us for a fun collection of sweet and whimsical manga, yummy Asian treats & goodies, and a refreshingly creamy peach Milkis soda!
The awkward, romantic comedy manga about geeks in love that inspired the new anime!
This extra long book includes 2 volumes worth of manga!
Narumi Momose has had it rough: Every boyfriend she's had dumped her once they found out she was an otaku, so she's gone to great lengths to hide it. When a chance meeting at her new job with childhood friend, fellow otaku, and now coworker Hirotaka Nifuji almost gets her secret outed at work, she comes up with a plan to make sure he never speaks up. But he comes up with a counter-proposal: Why doesn't she just date him instead?
In love, there are no save points.