October's Sneak Peek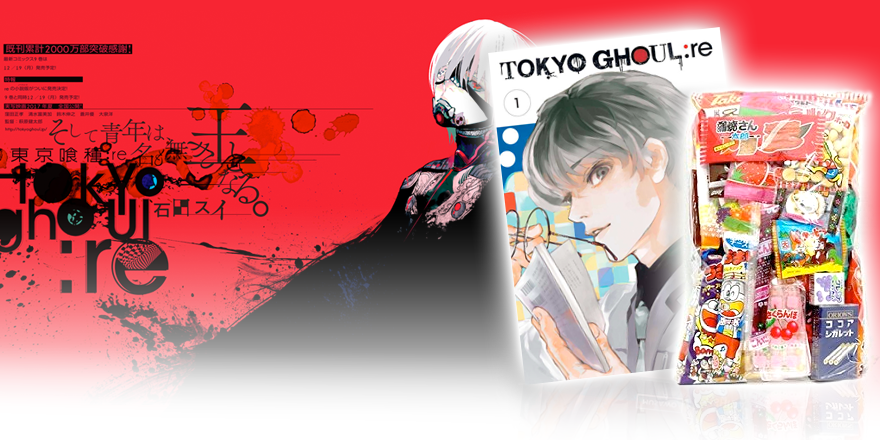 Fall is upon us and as the days grow colder, and the night becomes longer, this month's box will bring you manga that will chill you to the bone! Our Maid Neko-chan is back to share her love for the occult as she packs your box full of spooky manga for October's theme, GHOULS and DEVILS. The question is, will you be able to sleep at night? Tokyo Ghoul:re, sequel to the hit series, is our featured manga and it's one you won't want to put down...(Read the summary below!) Neko-chan's pairing this up with 2 other dark and thrilling manga. Too old to go trick o' treating? Manga Spice Cafe's got you covered with our special Dagashi bag! Try an assortment of different Asian candies and treats, plus you'll get a special drink item as well!
"In the world of Tokyo Ghoul, sometimes the only way to fight monsters is to become one…"
The Commission of Counter Ghoul is the only organization fighting the Ghoul menace, and they will use every tool at their disposal to protect humanity from its ultimate predator. Their newest weapon in this hidden war is an experimental procedure that implants human investigators with a Ghoul's Kagune, giving them Ghoul powers and abilities. But both the procedure and the newly formed Qs Squad are untested. Will they become heroes…or monsters?!
Haise Sasaki has been tasked with teaching Qs Squad how to be outstanding Investigators, but his assignment is complicated by the troublesome personalities of his subordinates and his own uncertain grasp of his Ghoul powers. Can he pull this ragtag group together as a team, or will Qs Squad's first assignment be their last?