June's Sneak Peek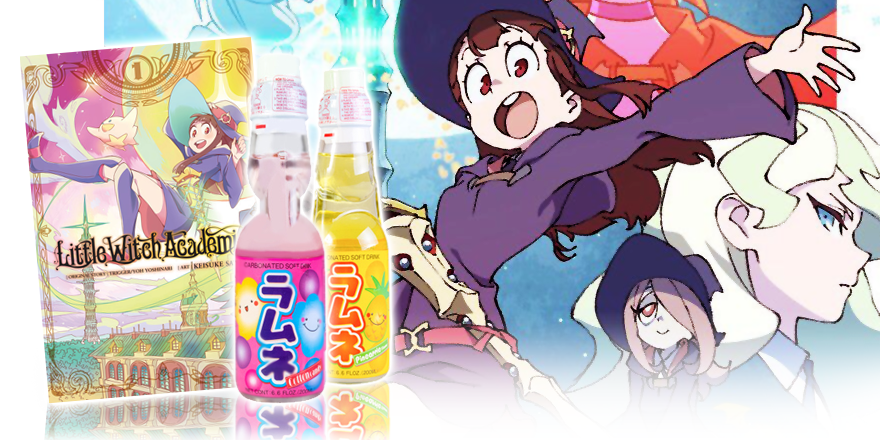 They say you shouldn't judge a book by its cover, but that's exactly what we're doing this month! COLORS is the theme for June and we've got a great mix of brand new manga with the most colorful of covers! This includes the high-flying, action packed Little Witch Academia manga, set to come out this month. (
story summary below!
) LWA was produced by anime studio Trigger as part of the Young Animator Training Project's Anime Mirai 2013 project, which funds young animators, alongside other short films by Madhouse, Zexcs and Gonzo. The short was placed on Youtube and became a hit, with over 850,000 views. Now you'll get a copy of the manga inspired by this series, plus 2 other colorful manga!
Pair them up with an exciting and interesting assortment of technicolor sweet and savory snacks, and a pineapple or cotton candy ramune, and you're all set to kick off your summer adventure! Orders open
June 1 through 15
. Don't miss this fun box!
"A believing heart is your magic!" Those words changed young Atsuko "Akko" Kagari's forever, sparking in her a life-long dream of becoming a real witch. Now, she's been accepted to the same school as her childhood hero Shiny Chariot, the prestigious Luna Nova Witchcraft Academy-as its only non-magical student! Atsuko might be surrounded by prodigies from around the world, but giving up isn't in her vocabulary. Whether it's making friends, proving the doubters wrong, or just flying a broom, Atsuko's going to make her fantasy a reality!