February's Sneak Peek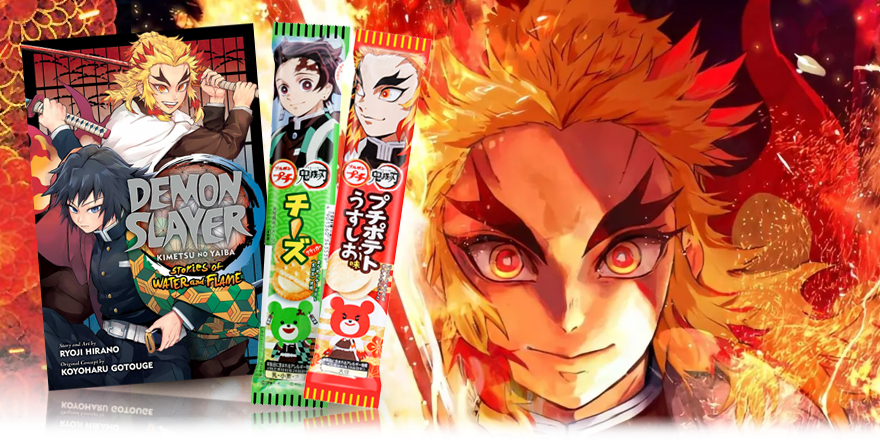 This Month's Theme: Shonen Stories
Shonen Stories will feature original manga stories branching off from some of your favorite recent Shonen series, including a brand new edition to the Demon Slayer universe! (story summary below) (And no worries. These stories can be read without knowing the original series 😉). In your box, you'll also find savory ramen and tasty Asian snacks including a limited edition Demon Slayer petit snack from Japanese confectionery company BOURBON (in celebration of its 25th anniversary), PLUS a special drink!
Demon Slayer: Kimetsu no Yaiba - Stories of Water and Flame Summary
________________________________________


One volume featuring two action-packed tales from the universe of Demon Slayer: Kimetsu no Yaiba!


Savage demons devour unsuspecting humans in Taisho-era Japan. Armed with special swords, the Demon Slayer Corps fights to stop the devastation demons spread. Giyu Tomioka, the sole Water Hashira, and Kyojuro Rengoku, a high-ranking Kinoe, embark on missions to eliminate demons and prove their mettle as two of the fiercest Demon Slayers.
Giyu heads north to an area where a band of hunters was killed. He and the Insect Hashira meet Yae, the daughter of a slain hunter, who believes a bear killed her father, but the truth is harder to face. Kyojuro also receives his newest assignment and hopes completing it will prove he's worthy of the title Flame Hashira, which his father abandoned. An explosive battle unfolds as Kyojuro takes on a demon of the Twelve Kizuki who holds a grudge against Kyojuro's father.